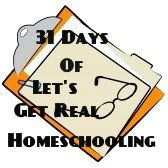 This post is part of a series showing the realness of homeschooling---the ugly, frustrating, and wonderfulness of it all.
Homeschool moms' lives are different than most moms' lives. We spend all day with our children. We take on a full time job of educating our children without any pay or much recognition. Our minds are filled with curriculum choices, state standards, and scheduling conundrums.
It's sometimes hard to find others able and willing to talk curriculum, teaching frustrations, and school burn-out. And yet everyone needs encouragement and the wisdom of those that are treading the same path.
I have had a few homeschooling real life friends throughout this journey, but most of my support comes from other homeschool moms and dads I've "met" online.
I've been able to connect with homeschooling families that share my religion, curriculum choices, and homeschool methodology through several different
yahoo email groups
. Clicking on the link will take you to yahoo groups pages where you can search for specific types of homeschooling groups or even create one yourself. This is an awesome way to be able to chat with everyone in a group via emails.
Another excellent homeschool support has come from
The Well Trained Mind Forums.
This forum provided by Susan Wise Bauer, author of The Well Trained Mind, has thousands of homeschoolers of diverse backgrounds willing to share their experiences with others. I visit often to share curriculum experiences, commiserate bad days, and celebrate triumphs.
Pinterest
provides a tremendous amount of support for my homeschooling journey. Other homeschoolers and teachers of all kinds freely share articles, organizational ideas,science activities, history resources, and curriculum choices.
I also feel I have a network of homeschool moms through the many blogs I read and share with on a regular basis.
Cellista at La Scuola d'Argento
shares both her triumphs and defeats. I love reading that she struggles with keeping her house clean, and yet she still manages to fit her passion of music into her busy life.
Mary at Winecup Christian Academy
encourages me with optimism and her vast experience homeschooling. It is always nice to read where others with older children are on their homeschool journey. And I often feel like I have my own personal cheerleader when
My Name is Tiffany from Random Utterings
comments on my blog.
Support is out there for this sometimes lonely and very hard thing we call home schooling.
Where have you found a support network?