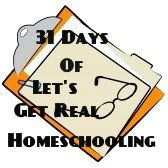 This post is part of a series showing the realness of homeschooling---the ugly, frustrating, and wonderfulness of it all.

I missed three days of posting! I am fine—so sorry for the worry I caused by not posting the last three days. Thanks for the notes of concern.

I have been fine. My oldest daughter got some glass in her foot. After many doctor's visits and x-rays, we think all of the glass was removed. And that was the reason for my disappearance from the blog world.

I'm working hard on finishing strong!