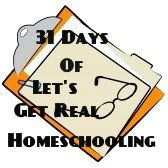 This post is part of a series showing the realness of homeschooling---the ugly, frustrating, and wonderfulness of it all.

I use to spend vast amounts of time planning. I love planning. In fact, I love planning more than I love doing. But I'm in a place in my life that I need to be doing so much, I don't have so much time to be planning.

And along the way during that time doing without so much planning, I've learned that simply doing consistently is more important than finding the perfect curriculum or creating the most awesomest lesson plans ever.

If all I have is a dull encyclopedia that I teach from everyday, that is better than getting to the fifteen most exciting living books in random spurts.

It only took me 10 years or so to get to this realization, but here is where I'm at!