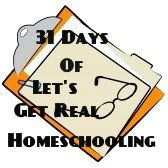 This post is part of a series showing the realness of homeschooling---the ugly, frustrating, and wonderfulness of it all.
Most Sunday evenings you can find me preparing for our upcoming homeschooling week. I spend much of my summer vacation choosing curriculum and lesson planning, but I've still found following a few steps on Sunday night help our week to run smoothly.
Look over lesson plans
I spend some time looking over lesson plans I've created and the lesson plans that come with some of the programs we use. Some plans may need adjusted according to the skills we are currently focusing on.
Decide on our weekly goals
While looking at our lesson plans I decide on our goals for this week.
It is unusual that we would be able to accomplish everything listed in our lesson plans. This time gives me an opportunity to look at the assignments, readings, and activities planned; and I think about the things that we absolutely must accomplish, the things that would be nice to cover but aren't necessary, and the things that don't meet our needs at all.
Look at our schedule this week.
It would be such a comfort if each week was an exact eight to three schedule every day of the week. Unfortunately our schedule never seems to follow that schedule. Field trips, monthly dentist appointments, lunch dates, and public school holidays are just a few things that affect our schedule. This week a friend needs a ride to the train station Wednesday morning, so our schedule that day will need to be adjusted. Friday afternoon we may have out of town guest causing our week to end early.
Adjust lesson plans to fit into our schedule
Looking at our goals and our schedule I fit in our must do assignments and as many of the it would be nice activities. I try to keep in mind I tend to over schedule—but that is still a work in process.
Pull resources
I try to be organized with most things we need on our bookshelves, but occasionally I need to dig through some boxes in the garage. And a few times a year, there is something I can't find when I plan for it! It is good to know that before I need it; I am saved from spending time during our school day looking for it and can figure something else out.
Start the week off right.
I can now go to bed knowing we are ready for the week. No need to wake up Monday morning feeling that I need to scramble to get things done before my girls get up.