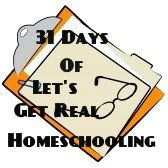 This post is part of a series showing the realness of homeschooling---the ugly, frustrating, and wonderfulness of it all.

E-R and I-E were excited to have two sessions of free writing this week. I can't remember the last time I've had a free writing session, but here goes—and you the reader are under no obligation to continue reading.

I am helping a friend enter this strange realm of homeschooling. I was a bit embarrassed when they asked me about my organizational system. My disorganized bookshelves and desk organizer did not speak of organization. So today was get organized day. My bookshelves are neat and organized and while doing so, I realized I had everything I needed on that shelf for the next two periods of history that I've been stressing about.

Why do I make things so hard? Why am I always trying to make things perfect? When asked how something is I often answer—perfect. Thank-you, that's perfect is another answer that often escapes my lips. Things aren't always perfect and that needs to be okay.

That needs to pertain to our homeschool as well. I've been working on this homeschooling thing for over thirteen years now—and I still don't have it down. I look back and see things I would have changed, things I could have done better, and yet at some point I need to say it might not have been perfect, but it was enough. I did the best I could with who I was at the time.
And that's what I'm working on right now. It's never too late to grow in this homeschooling journey!