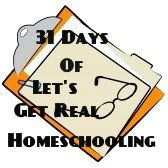 This post is part of a series showing the realness of homeschooling---the ugly, frustrating, and wonderfulness of it all.
this post is linked up to weird unsocialized homeschoolers weekly link-up
.
This week I wanted to dive into school with our new schedule. Unfortunately, I-E wasn't feeling up to snuff, so we took things much slower than planned. We still managed to complete quite a lot.
We started logic using
Art of the Argument
. We are still working on the introductory chapter, and I'm still trying to explain to the girls why we are studying logic. I'm more excited about it than my students.
. So my goal for next week---inspire! Get the girls excited about logic.
Second new thing this week—algebra. Thank goodness for Derek Owens and
his online courses
! Math is not my thing. Left to their own devices both girls have worked most days for longer than the required one hour. Great start!
Writing also introduced a new idea this week. Instead of working on specific projects, time is our new writing master. Without any specific assignments, both girls were excited to free write on Monday and Tuesday. Wednesday history assignment brought a narrative covering the Revolutionary War's battles. With writing time set aside each day, we had time to work on it while also moving on with our reading during history time.
Goal for next week—get onto our schedule so we can fit everything in.