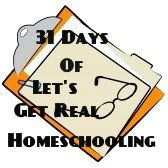 This post is part of a series showing the realness of homeschooling---the ugly, frustrating, and wonderfulness of it all.
I took my older kids out to breakfast this morning, leaving E-R and I-E to get themselves going and started with school. I'm happy to say they were both working hard when I arrived home.
They both worked on math for an hour and read for an hour before we completed an English grammar lesson together.
And then….
Dad walked in the door after being gone for over a week. That was the end of our school day. We snuggled up together and watched the Giants win the playoffs.
It was a nail-biter, but they pulled it off!