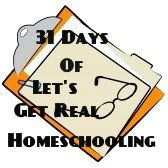 This post is part of a series showing the realness of homeschooling---the ugly, frustrating, and wonderfulness of it all.
7:15
---I drove my husband to work while my two youngest dragged themselves out of bed. My husband drove my high schoolers to seminary at 6:00. He himself played basketball from 6:00-7:00.
7: 40
—home. Girls are finishing up breakfast.
8:10
—ready for the day, we start our school day with Megawords. Both girls have passed the spelling section of what they are doing and are working on reading with more fluency and speed.
8:30
—the girls work on writing for a half hour. I-E is working on a longer paper about the Revolutionary War, while E-R spends some time free writing.
9:00
---Both girls work on picking out quotations that show suspense from "The Most Dangerous Game." Next week they will be writing their first literary analysis paper. This week we are working on the building blocks of that paper. While the girls work, I get supper started in the crockpot---lentils cooked with potatoes and hambone.
9:30
—we hope in the car to take a friend to the train station. Her train will be late, so we take the time to visit a bit.
11:15
—back home. The girls snack while alternating between reading for an hour and working on math for an hour. I clean up the kitchen and can some chutney I made yesterday.
1:30
—time for grammar. We read the lesson on loose, periodic, and balanced sentences, complete the oral exercises, and take study notes. Then move on to the next lesson which covers coherent paragraphs. After reading the lesson, the girls put some guidelines from the lesson into their writing notebooks for when they are editing and revising.
2:40
---time for me to pick up A-M and E. While I am gone E-R and I-E read their science lesson on ionic bonds and complete the exercises.
3:20
---I am home. We go over the lesson and exercises and look up ionic bonds in our science encyclopedia. E-R and I-E take notes on the info in the encyclopedia while E and A-M have a snack.
3:45
—time for E-R to go to rehearsal. I-E rides along so we can talk alone on the ride home. E and A-M get started on homework. E has to prepare for a debate. A-M is studying for a calc test.
4:30
---I'm back home. E and A-M are still working. I hop in the shower.
5:15
---I leave to pick up J from work.
5:40
---We are home. J and A-M work on calibrating a catapult for a physics project. E, I-E, and I eat supper and leave to pick up E-R from rehearsal and head to church.
9:00
—all home. J is working on school work and the rest of us head to bed--where I write this post.
Good night!