This school year has been a bit funky, and in a way I feel we are just starting our school year. My girls have been working for six weeks now, but because of numerous things happening in my life much of that work has been done without me. Today I realized I've been feeling guilty for missing those times of working with my girls. I've somehow felt that school was not getting done.
I'm a big proponent of working with kids and not sending them off to work independently day after day as some homeschool parents seem to do. In fact, I've
written about it quite a bit
. As I allowed myself to dwell on life this school year, I realized I need to let go of the guilt! My girls are capable of independent work because I've spent the last 8 years working with them. Although not the ideal long term, they can work and learn without me.
But as I thought about them working alone, I realized
I
was missing discussing what we have learned, hearing their opinions on things they are learning, and seeing the connections form as they learn and grow. It is the relationship forming time I have missed this school year. Thank goodness, things are coming back to a normal routine and that time is back in my life.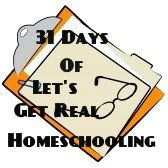 This post is part of a series showing the realness of homeschooling---the ugly, frustrating, and wonderfulness of it all.